We know what you are thinking "Marketing on TikTok… Really"? The answer is yes, but it may not be the best fit for every brand. To make sure you should be marketing on TikTok your customers and the TikTok demographic should overlap. Many businesses large and small have found success marketing on TikTok. Don't throw your TikTok marketing strategy out the window just yet. Let's teach you how to set TikTok up for business and how to tackle TikTok influencer marketing. 
Set Up Account:
After creating your account, switch to a pro account, then select Business or Creator. This will allow you to add a website and contact email to your profile. If you plan to run ads on TikTok you will need to create an ad account for TikTok Ads Manager. Your TikTok marketing should not be the same approach as Instagram or Facebook marketing. TikTok is an entirely different social network, with unique trends, features, and behaviors. You can create your TikTok business profile here, https://www.tiktok.com/business/en-US/. 
Explore the App:
Once you have set up your business account and ads account, you should take some time to get used to TikTok. Explore the different features available on the app. Take notes on what filters, effects, songs, and hashtags are trending. 
Read About the Algorithm:
Now that you are familiar with the app time to read up on the TikTok algorithm. Here is a great article that breaks it down for you https://blog.hootsuite.com/tiktok-algorithm/. You will want to read up on it because the algorithm is different than any other social media platform. Also take some time to find rising stars or influencers in your niche. Influencer marketing is a big part of TikTok's ecosystem.
Define Your Target Audience:
Who do you hope to reach on TikTok? Yes, TikTok is most popular with teens, but TikTok is not a teen app. The 20 -29 age group is almost 30% of the users as of June 2020. You can see this in the chart below. Once you have picked a potential audience, research what types of content they like and engage with.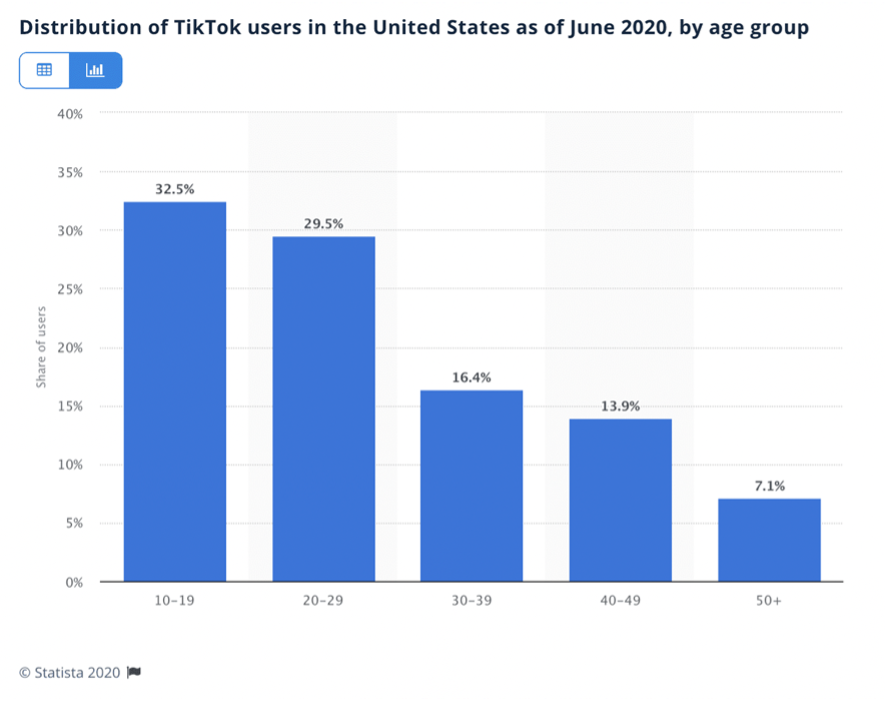 Perform a Competitive Audit:
Check to see if your competitors are on TikTok. If they are you could be missing out on the action but, if they aren't TikTok may be a way to gain a competitive advantage. Even if your competitors are not on TikTok you should try to find at least three to five similar brands and see what they are doing on the app. If you find it helpful use the S.W.O.T. (Strengths, Weaknesses Opportunities, and Threats) framework to learn what's worked and hasn't worked for them. Keep in mind that TikTok is a creator-led platform, also analyze TikTok stars and influencers when evaluating strengths and weaknesses. 
Align Your TikTok Goal with Business Goals:
No matter if you are trying to reach a new audience, promote awareness for a product/service, improve brand image, or develop stronger customer relationship, it is important to have rationale to back it up. To set these goals try to make them S.M.A.R.T. goals. S.M.A.R.T. goals are Specific, Measurable, Attainable, Relevant, and Timely. If you want to learn more about S.M.A.R.T. goals we have a blog post about it here (internal blog link). TikTok provides analytics for pro accounts, which allows you to track your goals. You can explore the dashboard and find the metric you can use to measure your goals. 
Start to Experiment:
Unfortunately, there is no such thing as a formula for going viral on TikTok. With that being said you should leave room in your TikTok strategy to be creative and go with the flow. If a video that you thought was going to perform well flops, learn from it and move on to the next experiment. If your brand ends up accidentally trending like Ocean Spray, or others make the most of it and join in on the joke.
Keeping up with all the different social media platforms and their separate algorithms can be a lot of work. Add on creating the content and engaging with customers on social media it is even more work. If you need some help, we would love to help you through it! Contact us now to schedule a consultation.